Willow
Gender: Female
Age: 3 Years
Height/Weight: 20" / 40lbs
House-trained: Yes
Fenced yard required: Yes
Location: SE Michigan
Foster Home: Sonja


Crate-trained: Yes
Treat-motivated: Yes
Toy-motivated: learning
Likes Car Rides: Yes
Good with cats: Yes
Good with kids: Yes
Commands: Sit, Down, Kennel up
---
Willow was adopted in June, 2016. Here she is with her new family!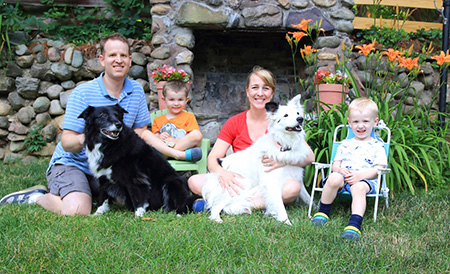 Everyone is adjusting well so far. Willow loves walks, playing in the backyard and snuggling on the couch. Banjo is happy to initiate play when we are at the park but a little more suspicious of Willow's intentions when we are in the house! It's already getting better though and Willow is hardly retreating to her crate at all today (her second full day). At the moment both dogs are happily laying on the rug at my feet. Thank you again, we are so happy to have Willow part of the family!!
---
When I met Willow I expected to see a black and white Border Collie. Instead I met a beautiful mostly white Border Collie (perhaps a mix) and was stuck by how pretty her coat was. She acted so excited and happy to see me, a stranger. She immediately laid down on her back submissively and wanted a belly rub. She jumped in my car and settled in her crate immediately. She didn't say a word the entire 2 hour car ride home. She was great the first night at my house and has been great ever since.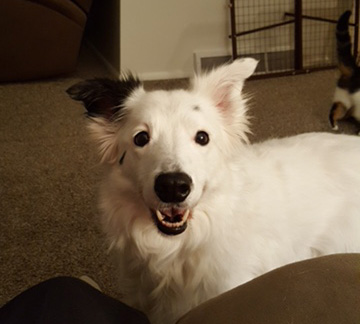 Willow likes to be in her crate. She sleeps in her crate with no complaints the entire night until we wake up to let her out. She will eat her food in her crate as well and sometimes just wanders in it and lays down for whatever reason. She gets along well with my dog. She LOVES to be outside in our yard. Most of the time I need to use a treat to get her to come inside so I am trying to teach her that if she comes to me when I say 'Willow come' she gets rewarded with a treat. She needs work on that. Willow is perfect in every way except when going for walks, she pulls. I am trying to teach her how to walk nice everyday and to sit before crossing the street and giving her approval to cross. She did attempt to run after someone on a bike on one of our walks so for that reason I would strongly recommend a home with a fenced in yard.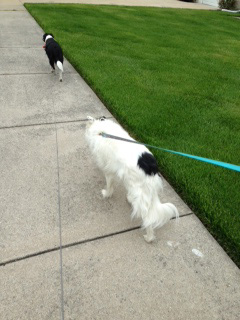 For the first couple of days in our house, she did not make a sound. Now she is starting to bark just a little when my boy barks (he barks at cats he sees outside and a raccoon that moved in next door).
Willow loves new people and new dogs. Although I do not have small kids or cats in my house, her previous owner said she did well with both kids and cats (they had two cats living with them). She even gets along with my botvac (robotic vacuum cleaner) and leaves it alone while it does it's job.
Willow loves to run after my dog in the yard. She needs the exercise so I am hoping that she might drop a few lbs with all of the activity she has here.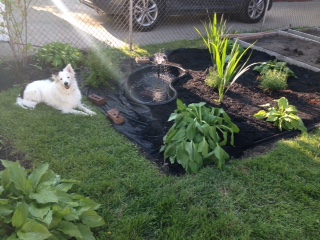 I took her for a bath today and she was perfect. She even let me use the dryer that they have at the nearby dog wash with no complaints. The bath seems to have reduced her shedding and her coat is now SO soft. Willow is a very affectionate, cuddly little dog and is very sweet and endearing. I think she would do well in any environment.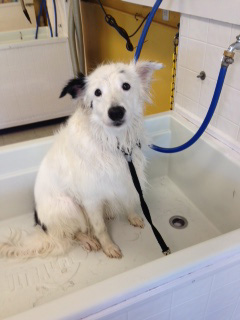 ---
---
Photos
---
Videos