Cookie
Gender: Female
Age: 1 Year
Height/Weight: 19" / 40 lbs
House-trained: Almost
Fenced yard required: Yes
Location: Mid-Michigan
Foster Home: Paty, then Thaylia

Crate-trained: Yes
Treat-motivated: Yes
Toy-motivated: Yes
Likes Car Rides: Yes
Good with cats: Dog-Savvy Cats
Good with kids: Yes
Commands: Come, Sit and Kennel up
---
Cookie was adopted in July, 2017. Three generations of her new family came to the adoption! Here she is in her new home!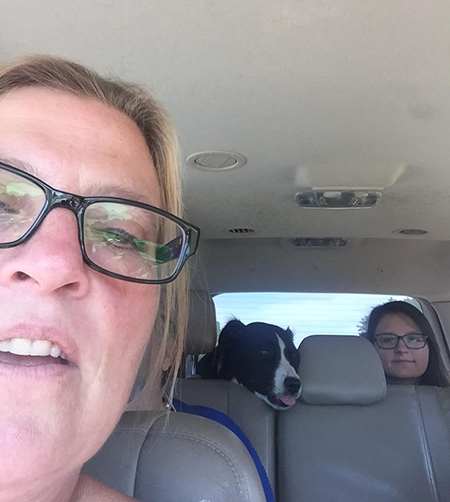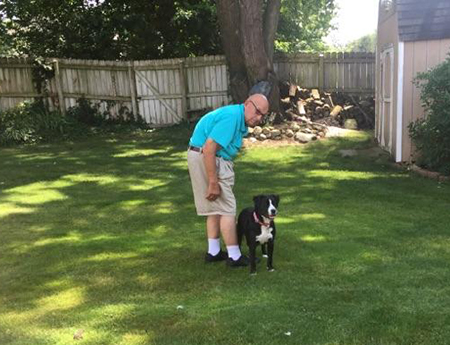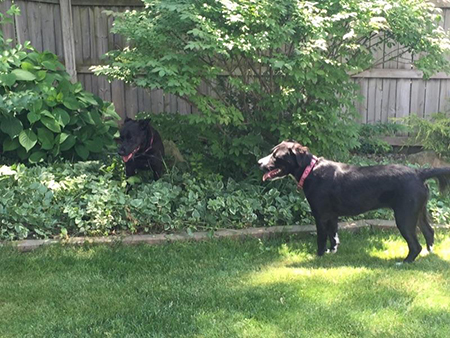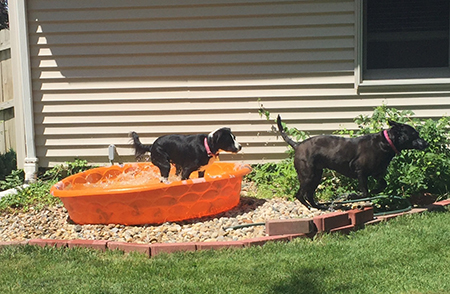 ---
Cookie was recently returned to GLBCR through no fault of her own and is once again looking for a forever family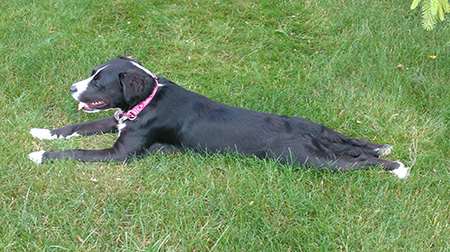 She is a real sweetheart. I believe she will be one year old next week. She is the most low energy dog I have ever met in my life who wasn't ten years or older. Cookie is the most kind, loving, easy going dog soul you will ever meet. All she wants is to be with her people. She plays well with my dog, Daniel, but mostly she stays with me or John following us around the house.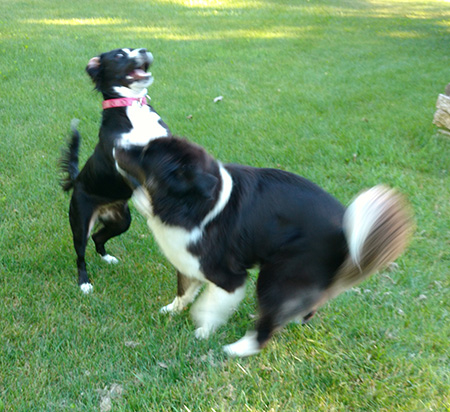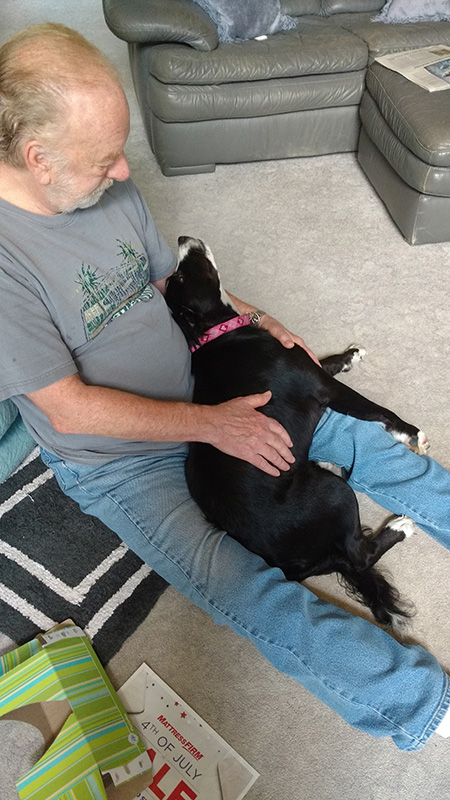 If we are sitting in the living room, not petting or paying attention to her, she will crate herself or retire to a dog bed and take a rest. Cookie is not afraid of anything! she's fine with thunder, rain, trains, vacuums, fans, Etc. She goes up and down stairs well she loves car rides and adjusts to new situations incredibly well. I have found nothing that she is afraid of.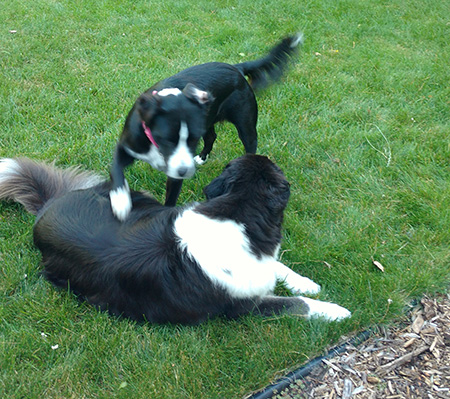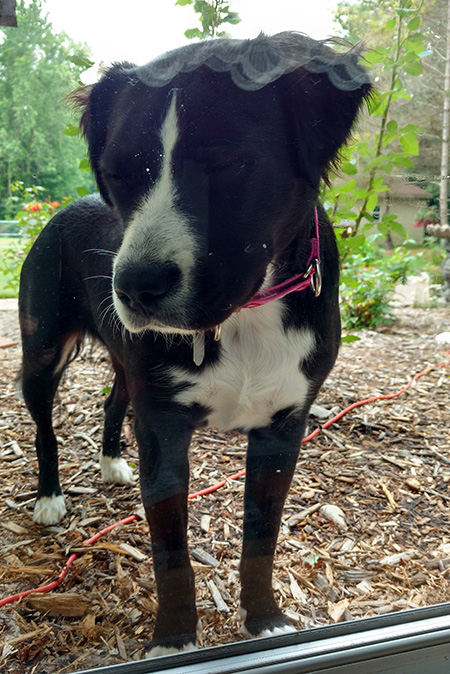 ---
"C" is for Cookie and that's good enough for me...
This little girl is sweetness x 10! Quiet and loving. Polite and sits right down for pets. When the chow bowl comes out she is quite a chow hound! Acts like she has never see a dish of food. I am going to give her the slow-go bowl for her dinner tonight and see if that slows her down a bit.
Cookie is interested in the home dogs, but having a belly full of stitches (recent spay) I decided to keep her separate from my big bouncy boy so she doesn't get hurt. I think they would be great buddies otherwise. He gives her little kisses through the room dividers.
She met my sister's dog T-Bone tonight with no problems what so ever! I did not realize he was coming to visit with the kids and I took Cookie out on leash to meet them. As he rounded the car, she lit up like a birthday cake and greeted him like a champ!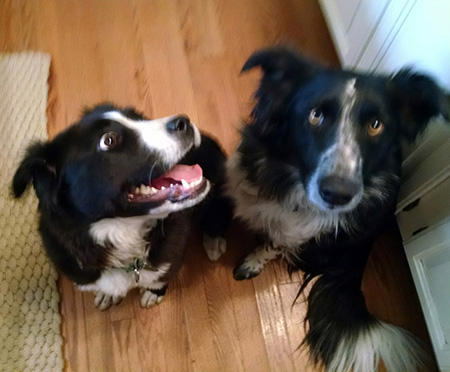 I think is is plenty safe to say that she is "good with kids". I would caution a new family with very young kids as she is still young herself and has enough puppy left in her that she is still a nibbler and we all know that kids arms and legs are just right for the nibbling! At one point this evening Carly (the 6yo) was on the floor with Cookie petting her. Cookie turned to her and grabbed hold of Carly's knee with a soft mouth and looked at me out of the corner of here eye as if to say Nee-ner, Nee-ner. I gave her a verbal correction and she let go immediately. Cookie was not trying to hurt Carly, just puppy mouth grabby. And to be fair, a bony little 6yo knee sticking out in space does look incredibly like a ball...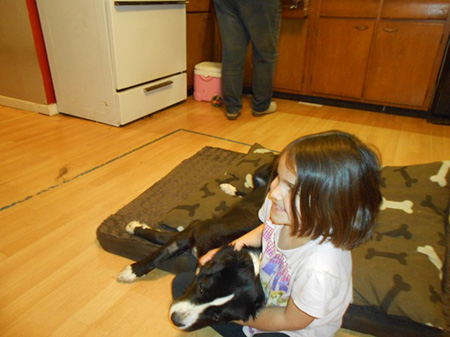 She found the toy box straight off and picked out her favorite toy to play with, the little red feetsy-ball. She carried it around the house for quite a while by its little half-chewed foot for a long time last night, tail wagging all the time.
She is much lower on the energy scale than I am used to having around here. Kind of nice I must admit! I think I could get used to having the couch-potato type dog for a while.
Cookie is a catch for any family looking for a companion level dog. She will be great fun in an obedience class and her affection is off the charts! Ohhhh! That face! Then she turns on the charm and instantly worms her way into your heart... Then she bounces around ever so delicately with a toy in her chompers and you can't help to smile. THEN she offers her sweet kisses just in case she has not warmed your heart enough yet!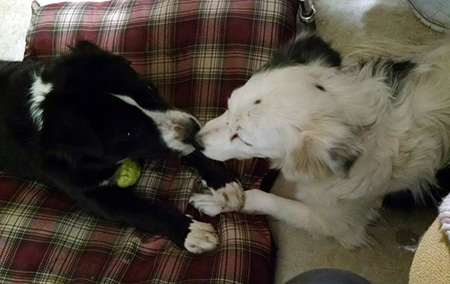 ---
---
Photos
---
Videos