Dobby
Gender: Male
Age: 9 Years
Height/Weight: tbd / 30 lbs
House-trained: Yes
Fenced yard required: tbd
Location: SE Michigan
Foster Home: GLBCR


Crate-trained:
Treat-motivated:
Toy-motivated:
Likes Car Rides: Yes
Good with cats:
Good with kids:
Commands:
---
So at long last after many consultations and veterinarian visits, Dobby finally had is broken canine tooth removed and is ready to start finding his forever HOME. Dog rescue sometimes takes a village and Dobby truly had quite a few of us working overtime to find a surgeon that had availability and would give us rescue pricing to extract his tooth, This also meant that Dobby had a foster vacation to the Funny Farm! Special thanks to Tammy for letting a house elf into her home. As a bonus, we can certainly check three more boxes for Dobby….
Good with Kids=CHECK
Good with Cats=CHECK
Crate trained=CHECK
Tammy even brought him to a Girl Scout camping event and he was more popular than the cookies!
We will delve into Dobby's personality and characteristics soon but it is time to reveal Dobby's secret. When he came into foster he had a bad cough and we thought he might have kennel cough so the Vet did an X-ray to make sure everything was OK. The lungs looked fine but the x-rays revealed Dobby had been SHOT TWICE! Neither the BB nor the pellet was worth removing surgically so they will stay wh¬ere they are. That is the thing with a dog that comes in as stray; we see the scars and the reactions to certain triggers and always wonder what they went through. Dobby has a big old scar on the top of his head and we have no idea how it happened. But when that x-ray revealed the frags left in his body, we can say with certainty that Dobby had a rough life… till now. We makes this even more egregious is fact that there is not a sweeter dog on the planet than Dobby. They may be as sweet but he cannot be surpassed. This can be evidenced by the shelter people giving him his own desk and by the way all of the GLBCR volunteers want to keep him, even though we know we cannot. He has a very gentle manner and just wants to stay with his humans. He kind of follows you around the house helping with every task. And by help, I mean lie next to you while you do the work.
Be forewarned though, Dobby came in as stray and picked up a few bad habits along the way. He will open your cabinet door to grab a quick snack out of the trash. Child locks on that cabinet now keep him out. He also got into the big trash can outside once as well. This behavior is kind of expected with what we know and can surmise about his history. He can also be a bit barky. He wants to be with his humans so when we are in the front yard and he is in the fenced back yard, by golly he lets you know! He can also be a bit stubborn. First night in the crate he might have barked for Nine hours straight. Night two was twenty minutes. Now he settles nicely though we still entice him in with a treat (thanks again to Tammy).He doesn't really bolt out the door but he will try to go with you so his new humans will have to keep an eye on that.
Dobby really likes to climb. He is a bit arthritic and crosses his left foot under on his right when he sits. He tends to stroll around more than run but has been known to get the zoomies on occasion. You would think that those old bones would hold him back but then you turn around and he has decided to nap on the patio table while supervising your gardening.
If you are looking for a low key super senior dog to give a good home to for the rest of your life, please consider bringing this house elf into your home. You will not regret it.
---
Dobby has been given a sock and is now a free house elf!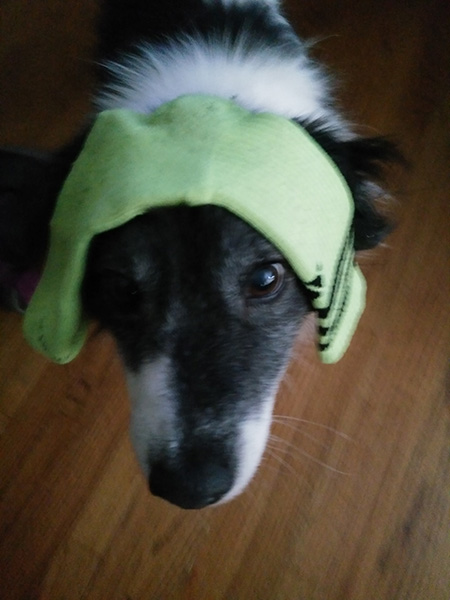 Dobby worked in the office at the shelter he came from. He was treated very well by the human staff there but did not yet have what all house elves ultimately crave, his freedom.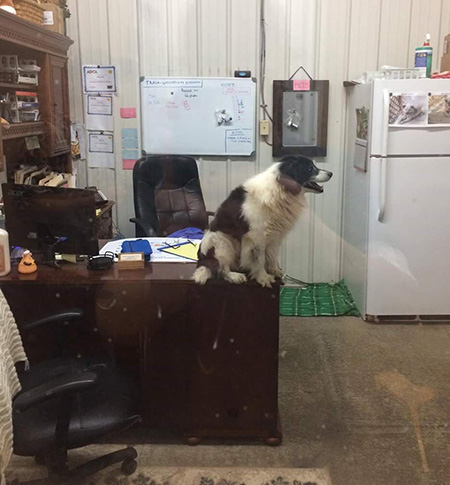 Dobby still needs some time in his foster home to learn the rules of being a free house elf and has a tooth that needs to be removed soon. More information to come as he recovers and explores his newfound freedom.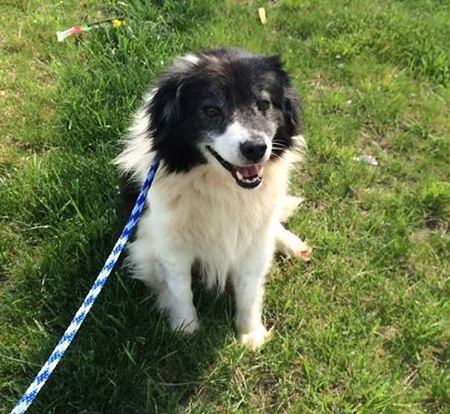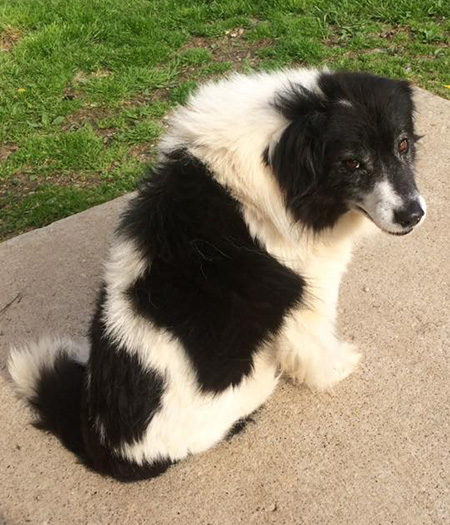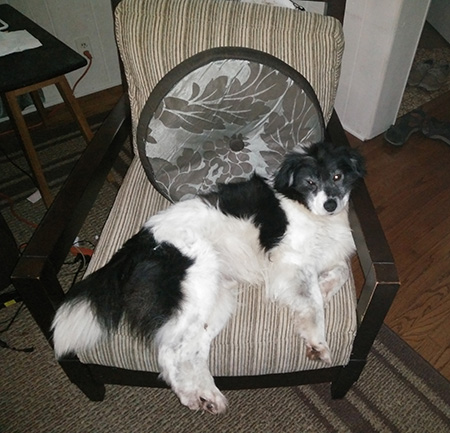 ---
---
Photos
---
Videos