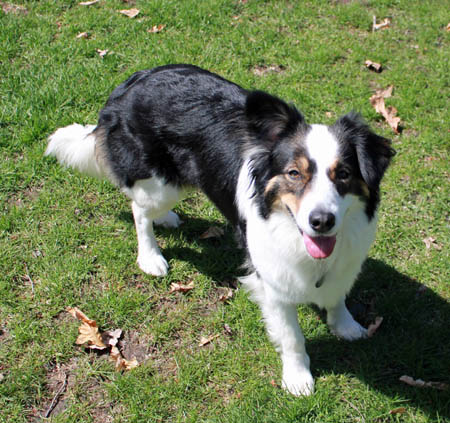 Gender: Female
Age: 1 1/2 Years
Location: SE Michigan
Wren is one special girl! She was at a shelter where she was as scared to death, mentally and emotionally shut down. She has made great strides after leaving the shelter and her true personality is starting to shine through. She is still a little shy and timid to new people and situations and will benefit from socialization. Confidence building (training, dog sports) will be required for her. She loves balls and seems to enjoy fetching (though she has a lot of competition in a multi-border collie foster home). She has a lot of energy that could be channeled into dog sports and she makes a great running partner too.

Wren is very exuberant, but is not "herdy" or overly obsessive. She has seen sheep a few times and really had no instinct or interest in gathering. She can be very stubborn if she doesn't want to do something. She does like to chase birds and squirrels outside (cats sometimes). She is very much a "velcro" dog and likes to be close to people at all times. She does follow you everywhere and is under foot often. Love car rides and is crate trained. She is great with other dogs and cats (though she will chase outside, but stops when corrected). The cats in her foster home seem to like her and sometimes play with her.

Her best home will be an active home where she is mentally and physically challenged to meet her needs. She is suited to an active couple/family and shouldn't be left alone for hours on end. Other dogs in the household would be great too.

If you are interested in adopting Wren, please go to our website Furry Friends click on the Application link on the left hand side of the page and follow the instructions. Adoption Fee: $275 For more info please email: furry friendsrescueinc@gmail.com . NO CALLS PLEASE. Home visit and vet references will be required. To apply to adopt please fill out an application at For more information email Furry Friends. Email inquiries only.